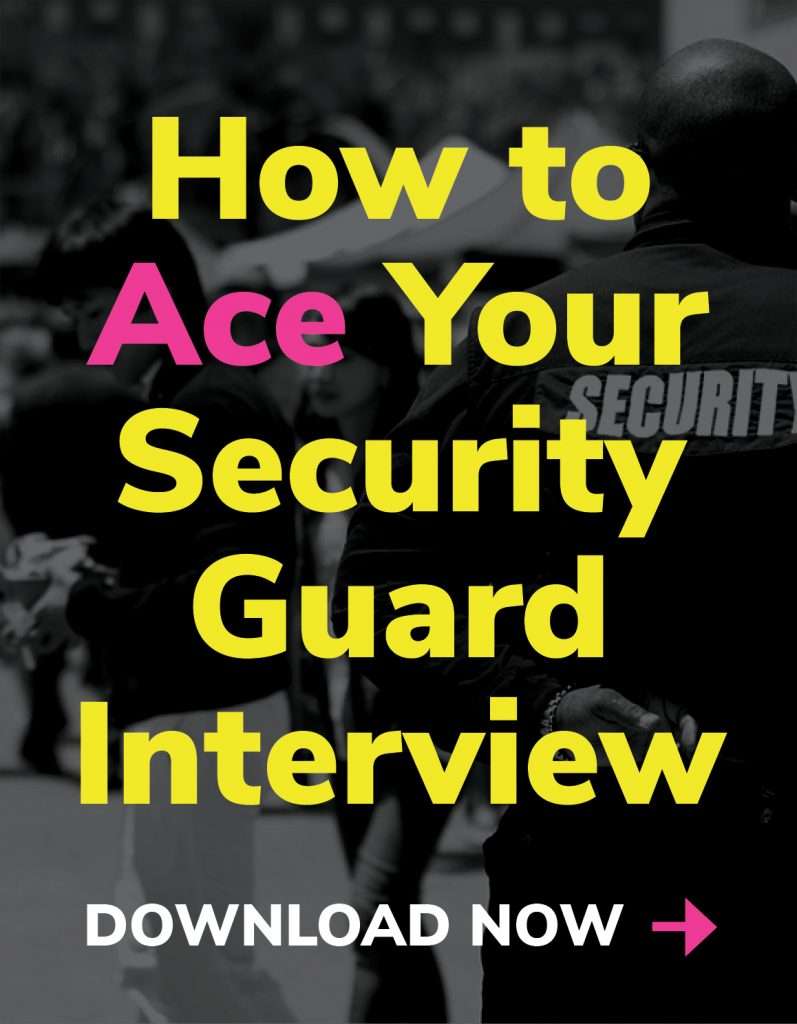 Going for a job interview?
The job interview is your chance to impress the company and can be a very stressful time.
Get this helpful guide on how to impress the interviewer and land the job!
Essential Security Guard Equipment
Security guards carry a lot of gear, and all good security guards will have the following essential security guard equipment on hand that is required to protect not only themselves but the property they are assigned to.
Here's a list of security guard equipment that all security officers should have.
Note: When you grab anything we mention using our referral links, we may get a small commission. However, there is no extra cost to you. If you'd like to learn more, check out our affiliate disclosure page.
Flashlight
A flashlight is one of the most important pieces of security guard equipment that a security guard can carry.
Even if you're assigned to a day job where a flashlight may not seem necessary, it's still important to be equipped with one because certain scenarios may require some extra light to help you see, and you never want to go into a dark location without one.
Furthermore, a flashlight can be used for protection. Many flashlights that security officers carry are heavy-duty, long metal flashlights that could potentially be used as a striking device.
No special training is needed to carry a flashlight, although there are training programs that you can enrol in that may teach you how to effectively use one in a combat situation.
Most security officers (and police officers too!) carry a MagLite [Aff Link] because of its durability, bright light, and solidness.
Boots
A good pair of security guard boots [Aff Link] is extremely important.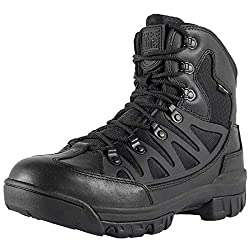 Because most security guards spend their shifts walking around on patrol, a pair of durable boots will last a lifetime. A cheap pair will not only end up hurting you but will also wear out and you'll find yourself having to buy a new pair at least twice a year.
Most uniforms require a pair of black boots, but you'll want to check with your employer first before investing in some quality boots for yourself and your feet.
Due to the Canadian climate, you may also want to look into getting a pair for summer use [Aff Link] and another pair for winter use [Aff Link], especially if your position requires any outdoor patrolling.
Security Guard Belt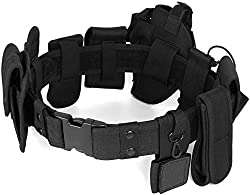 The security guard belt [Aff Link] is another important piece of equipment for any serious security guard. It makes carrying all of the pieces of equipment listed here (and more) much easier.
The last thing a security officer wants to do is fumble around looking for his/her flashlight when they need it most.
Belts usually come with extra pieces that slide or clip on so you can attach additional pieces of your security guard equipment to it.
If possible try and find one made from nylon. Leather does look better but the nylon will wear better and not be as heavy. It will also not need the level of maintenance that a leather belt set would. Not to mention the cost is a lot lower with a nylon system.
Heated Vest
Many security guards work in colder climates where it can be uncomfortable to work and function properly. Even if you live in a warmer climate, you may need to work at night at times when the temperature can drop drastically and make you very cold.
A heated vest [Aff Link] can take care of this for you and keep you comfortable and focused even on the coldest of nights.
Mini-First Aid Kit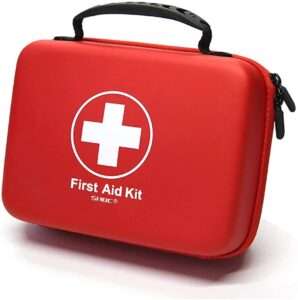 A mini first aid kit [Aff Link] is perfect for security guards to have, not only for themselves but for the people in and around the location that they are assigned to.
For example, if you're working in a retail area and someone comes up to you asking for a band-aid (which they will do – you are the most visible person who people can easily walk up to for help), the last thing you want to do is waste time trying to find one. If you have a kit on hand, you can help out any person in need, and get back to your duty and patrol as soon as possible.
Personal Emergency Gear
It is also important to not just limit yourself to gear that is useful or helpful on the job.
You should also think about emergency gear for your car or home.
Amazon [Aff Link] has a great selection of gear.
Last Updated on Sep 16, 2023