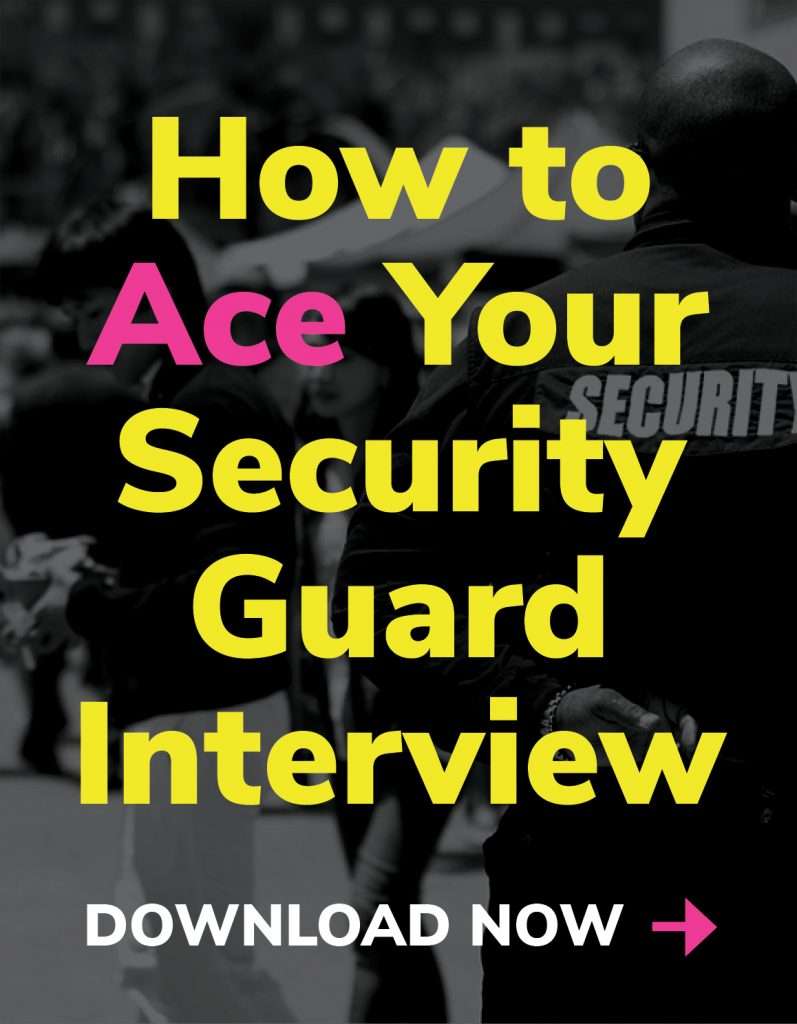 Going for a job interview?
The job interview is your chance to impress the company and can be a very stressful time.
Get this helpful guide on how to impress the interviewer and land the job!
NB Security Guard Training – Provincial Requirements
Introduction
To help you navigate thru the requirements for this highly sought-after occupation we've created a comprehensive guide focusing on New Brunswick Security Guard Training.
The Private Investigators and Security Services Act, 2011 requires individuals to hold a valid security guard or private investigators license while employed by a licensed security business in New Brunswick. The license is only valid for that particular business. This act governs all aspects of mandatory security guard training and equipment requirements as well as the issuing, renewal, and cancellation of security guard licenses.
The Private Investigators and Security Services Act, 2011 defines security personnel as "a person who guards or patrols or provides other security services for the purpose of protecting persons or property and includes a person who
supervises and inspects security guards while they are guarding or patrolling, or
accompanies a guard dog while the dog is guarding or patrolling".
Requirements of Security Officer
only wear a uniform approved by the Registrar
carry and present their licenses to anyone making that request
comply with any terms and conditions of their licenses;
be over 18 years of age
return their licenses to the Registrar when they expire, or are terminated, suspended, or cancelled;
report to the Registrar any incident involving a member of the public involving the use of force or other unusual intervention.
New Brunswick Security Guard Licensing Requirements
Anyone seeking a security guard license must be at least 18 years old and of good character, as applicants are required to submit a criminal record check.
Must have employment with a licensed agency;
Must complete and sign an agent application form;
Must submit two photographs (colour, 2.54 cm x 2.54 cm in size);
Must submit a copy of a government-issued photo ID to be kept on file (i.e. passport, driver's licence);
Must submit a full set of fingerprints prepared by any detachment of the Royal Canadian Mounted Police or any municipal police department with the application;
Must include licensing fee with the application.
Security Guard Licencing Fees For New Brunswick
New and renewal licenses for security guards in New Brunswick require a fee of $50 to be paid to the Minister of Finance of New Brunswick. The license is valid for a one-year period ending 31 March.
New Brunswick Security Guard Training Course
There is no requirement for New Brunswick security guard training. However, employers can set the standard of successfully obtaining a college diploma in law and security or police technology.
Sample Job Titles
This is a list of job titles that can be found in the security guard field of employment.
corporate security officer
commissionaire
night guard
postal inspection officer
preboarding security guard
private investigator
private security officer
retail loss prevention officer
security guard
store detective
theft prevention officer
bodyguard (except police)
automatic teller machine (ATM) guard
armoured car guard
airport security guard
alarm investigator
house detective
gate attendant – security
Summary Of Main Duties
Security guards control access to establishments, operate security control-room equipment and patrol assigned areas to guard against theft, vandalism and fire, enforce regulations to maintain order and resolve conflicts and to monitor establishment activities; ensure safety and emergency procedures are followed; issue passes and direct visitors to appropriate areas, check age identification of patrons and perform security checks of passengers and luggage at airports.
Armoured car guards drive and guard armoured trucks, pick-up and deliver cash and valuables to banks, automated teller machines and retail establishments.
Corporate security officers investigate unlawful acts of employees or patrons of establishments and recommend security systems such as electronic detection devices and access devices.
Private investigators conduct investigations to locate missing persons and obtain information for use in civil and criminal litigation matters or for other purposes; they may also conduct polygraph tests (integrity surveys) for clients.
Retail loss prevention officers prevent and detect shoplifting and theft in retail establishments.
Last Updated on Sep 16, 2023