Saskatchewan Online Courses
Saskatchewan has a mandatory 40-hour training course called the Saskatchewan Justice Approved Security Guard Training Course that must be completed before being licensed. The Ministry of Justice in Saskatchewan does not provide the training directly but approves trainers who are authorized to deliver the program.
Online Security Guard Course Syllabus – Saskatchewan
The training syllabus (either online or in a classroom) is set by the Saskatchewan Ministry of Justice. The 40 Hour Saskatchewan Justice Approved Security Guard Training prepares you to write (and successfully pass) the security guard exam required by the Province of Saskatchewan. Once you have passed this exam (the minimum mark required is 75%), you can then participate in the high-demand career of security and loss prevention.
Section 1 – Introduction to the Security Industry
Section 2 – Canadian Legal System
Section 3 – Basic Security Patrol Procedures
Section 4 – Communication
Section 5 – Documentation and Evidence
Section 6 – Emergency Response Procedures
Section 7 – Health and Safety
The Saskatchewan government also provides a Private Investigator and Security Guard Training Manual to assist in your successful completion of the exam. This manual is a 574 page printed manual and costs $30. You can order it here.
Testing Locations
After completing the training program, all applicants must successfully pass the provincial examination (with a mark of no less 75%). The exam is delivered by the Registrar for Private Investigators and Security Guards. To learn more about exam times and locations, please contact the Private Investigators and Security Guards Program at (306) 787-5496.
Test fee
The cost of the exam is included in the course fee.
Recommended Trainer


You can get more information on their course by visiting this page.
*Disclaimer: Security Guard Training Canada is a marketer of this course only.
Security Guard Training Canada is pleased to provide an online Use of Force and Handcuffing Certification Course.
This course was developed by a Subject Matter Expert and former Instructor Trainer for the Ontario Police College. Subjects include Criminal and Trespass arrest, detailed use of force authority explanations, judgment and decision making (crisis intervention), and incident articulation.
There is also a full explanation of the new Criminal Code sections on the use of force for the protection of people and property.
Who should register
Persons looking to get Handcuffing and Use of Force certification.
Anyone working or seeking employment in law enforcement will benefit from this training.
Individuals who would like to advance their skills and job opportunities.
Organizations seeking to train multiple staff at a reduced cost.
Why take this course
It was written by a Subject Matter Expert in this field and former Instructor trainer for the Ontario Police College.
There is no requirement for an in class, hands on training module in order to become certified.
As an added bonus you will get the Handcuffing and Search modules and downloadable pdfs to keep.
Seek higher paying work and improve your chances of landing jobs by proactively taking this training.
Ability to complete this course at your own pace.
Instructor expertise and assistance available through email.
Check out our Online Use of Force and Handcuffing FAQ below for even more information!
*Disclaimer: Security Guard Training Canada is a marketer of this course only. Certification and training are managed by our licensed and insured partner.
Use of Force and Handcuffing – Course Outline
USE OF FORCE ONLINE COURSE INTRODUCTION

Lecture 1.1 Introduction to Use of Force

CRIMINAL CODE USE OF FORCE SECTIONS

Lecture 2.1 Criminal Code Use of Force Sections
Lecture 2.2 Mall Security Legal Issues
Lecture 2.3 Criminal Code Arrest By Security Guards

INTRODUCTION TO USE OF FORCE ACADEMICS

Lecture 3.1 Introduction to Use of Force Related Academics

USE OF FORCE AND INCIDENT ARTICULATION

Lecture 4.1 Use of Force and Incident Articulation

INTRODUCTION TO PASSIVE HANDCUFFING

Lecture 5.1 Introduction To Passive Handcuffing

ACTIVE / NON-COMPLIANT HANDCUFFING

Lecture 6.1 Active / Non-Compliant Handcuffing

INTRODUCTION TO PASSIVE SEARCH

Lecture 7.1 Introduction To Passive Search

USE OF FORCE FINAL EXAM

Lecture 8.1 Final Exam
Lecture 8.2 Recap Quiz
Online Use of Force and Handcuffing FAQ
Is this a certification course in the Use of Force and basic Handcuffing?
Yes. The resume and credentials of the Subject Matter Expert who wrote and narrates this course have the requisite credentials to issue certification using online only delivery methodologies. The company is also a verified Vendor of Record for training Provincial Officers in Ontario.
How can Use of Force and Handcuffing be taught purely online?
The number of kinesthetic  (hands on only) learners is very small. Many are labelled as ADD or ADHD in fact. While it is true that some people prefer to learn using "hands on with real time feedback," the fact is that most people also learn by reading, watching, mirroring, interacting with others and self practice. The bulk of people have blended learning styles which can be accomplished now, online.
What about real-time instructor feedback and subjective evaluations?
Feedback can be obtained online using video chats if required. There is also an option for an "in-house" instructor certification in this program.

Subjective evaluations performed by certified instructors only carry so much weight. Old training methodologies dictated that a person had to demonstrate, competence and confidence in order to meet a set standard to pass. The resulting problem was that the student may meet this standard in class but then leave the classroom and never practice afterward causing this skill set to deteriorate rapidly.

Unless the learner practices and/or refreshes the skill set with someone more qualified, they likely would continue to do it wrong and there is no way of knowing until there is a problem later.  Once the learner leaves the classroom and the instructor who "certified them," there is no way to know if they will continue to practice or even retain what they learned.

Instructors cannot be held liable for a learner not practicing a perishable skill set or how they apply that skill set once they leave the instructor's presence. The onus then shifts to the person and their supervisors to prove how the skills were maintained after initial certification. (If you don't use it….you will lose it.)
Isn't there a Provincial standard for use of force and handcuffing for security guards?
In Ontario, and most other Provinces and Territories, no. Only B.C. has a mandatory handcuffing certification standard. All the others do not. Police and related professions sometimes have standards built into their legislation, but it does not apply to civilian security guards.
Given that there are two different types of handcuffing methods, active and passive, plus a large number of other defensive tactics skills, what specifically is taught in this course and why?
All the related legal academics, articulation of incidents, judgment, and decision making are taught as a baseline. No course is complete without the legal reasons when, where, and why force can or should be used by persons who are not police officers.

Basic disengagement skills are demonstrated step by step as a prelude to control techniques, but NO hard empty hand skills are taught in this course. Our company has not taught pressure point techniques or hard empty hand skills for 25 years. The reason being is that we believe that giving people pain is NOT a valid paradigm for controlling violent behaviour and it offers NO control whatsoever.

In some cases, using pain compliance techniques is completely ineffective and only serves to escalate the problem at hand. This aside, given the social media video that is likely to appear, your punching, kicking, etc. will not help convince people of your position especially given that you are not the police.

Handcuffing and Search are two topics that are covered in depth. Step by step instruction is done using pictures, video of a live class being taught, and support materials provided.
More Information
Please see the following articles:
*Disclaimer: Security Guard Training Canada is a marketer of this course only. Certification and training is managed by our licensed and insured partner.
Has your Use of Force and Handcuffing Certificate expired?
Many don't realize that the Canadian Courts recommend recertification every 12 months.
This refresher course is for people who have previously taken a "certification" or other core level/fundamental competency course in the Use of Force and/or handcuffing. It is intended to bring you up to date on current, court acceptable, methods and tactics as well as a full review of the academics surrounding arrest, use of force, post arrest prisoner care, search and seizure within the context of the duties/authorities of a Canadian Security Guard/Officer.
This program meets the Canadian General Standards Board requirements under CAN/CGSB -133.1 -2017. Our Instructor is an approved provider of C.G.S.B. training for security guards to Federal ISO 9001 standards.
This ONLINE refresher course is for people who have previously taken a "certification" or other core level/fundamental competency course in Use of Force and/or Handcuffing.
It is intended to bring you up to date on court acceptable methods and tactics as well as a full review of the academics surrounding arrest, use of force, post arrest prisoner care and search and seizure within the context of the duties and authorities of a Security Guard in Canada.
* You will be asked to provide the name of your previous Instructor or Training Company upon first login to the course.
Why take this course?
Mandatory requirement for refresher training every 12 months to maintain currency for due diligence.
Maintain currency with court acceptable techniques that are "witness/social media" friendly.
Maintain currency with recent case law decisions and Coroner's Inquest findings on the use of force, handcuffing and restraint.
You will have access for consultation to a Court Recognized Subject Matter Expert in this field.
Course Outline
Use of Force Introduction
Criminal Code Use of Force Sections
Introduction to use of force related academics
Use of Force and Incident Articulation
Proxemics and Disengagement Skills
Intro to passive handcuffing
Active/Non-compliant Handcuffing
Intro to passive search
Use of Force Final Exam
Course Completion and Requesting a Certificate
Course Completion
This Retail Loss Prevention Course was developed by a Security Training Subject Matter Expert in consultation with industry and legal experts.
This course is designed for loss prevention officers and security guards to ensure their clients such as retail companies and their employees reduce retail theft and shoplifting while improving workplace safety.
The course contains instructional videos, downloadable materials in pdf format, instructional powerpoints/digital documents, and available live, one on one, instructor support.
A Certificate of Completion, suitable for framing, is awarded when the online final exam is passed.
Your login information will be emailed to you shortly after purchase.
This course will prepare you for an exciting and well-paid career in the Loss Prevention industry. This is more than a general "security guard" or "private investigator" course. This is specialty training for a specialty job within the security industry.
Current government-mandated training and licensing systems do not prepare you for this role. The job market for Loss Prevention Officers is thriving in today's economy. This course puts you on the fast track to obtaining the basic skills and training needed to jump-start your career as a Loss Prevention professional.
Course Topics
Course lessons focus on key areas including:
How serious a problem is retail theft today and what is the impact on business?
Current issues in Loss Prevention: The impact of Covid19 on retail – increased thefts, slow or no police responses.
The reality of today's court system and successful prosecutions.
The role of security as Loss Prevention Officers
Uniformed or plain clothes? Prevention and deterrence vs apprehension.
The "hands off/no touch" approach to confronting thieves: Loss Prevention Officers vs lawyers' perspectives. Do they work?
Pro-active or Reactive Responses: Why they work or don't work.
The Canadian Legal System
Arrest without warrant by Security: What is found committing?
What is "escaping from lawful custody?"
Steps to a lawful arrest. Detention vs Arrest.
Notifying police: when and how soon must this be done?
Handcuffing and Search legalities: Confinement and post arrest prisoner care and dealing with requests for washroom breaks, phone calls to lawyers etc.
Criminal Offenses in Loss Prevention: Theft, Fraud, Robbery, Break and Enter explained.
Charter or Rights and Loss Prevention Arrests. Search and Seizure of recovered items. Continuity of Evidence and the Rule of law in the Canada Evidence Act.
Ensuring successful prosecutions: Who decides on how to deal with a charge if there is an actual complainant who "wants to press charges?"
Options for police and their processes.
Options for prosecutors – first offenders vs repeat offenders.
Releasing thieves without charges after arrest/detention: Can this be done legally? Do the police have to be present?
Trespass to Property notices: how and when to serve them relative to a shoplifting incident.
Use of Force, arrest, and confinement
Responsibilities and accountabilities of Loss Prevention Officers.
Sample policy review for Use of Force, Arrest and Confinement.
CCTV cameras
When and how to use them: "Real time" recording and the role of a "dispatcher/CCTV camera monitor" as a team member. The role of the "floorwalker."
Data storage of electronic evidence: rules of law in the Evidence Act. Articles by Elliott Goldstein J.D. and Subject Matter Expert on Video Evidence in Canada.
Note-taking and Report Writing
Paper vs electronic recordings.
Statements: How to obtain them, use them legally and how to provide police with statements for case preparation.
Case studies related to Loss Prevention Officer note taking and report writing.
Apprehension techniques and Officer Safety
When and how to arrest safely. What does "on, or, in relation to property" mean in Loss Prevention?
Why a physical confrontation is not worth the risk sometimes.
Alternatives to physical arrests.
Civil litigation and Loss Prevention Officer arrests.
Dealing with the current reality of police responses
Slow or no response. The legalities of persons in custody for unreasonable lengths of time. (Eaton's vs Chopra/Chen case background – case studies)
Shoplifter protocols in some policing jurisdictions. What are they and how do they work?
Turning over to the police: What does this mean today? What if police are not available to attend or the arrest is done in a remote area?
Scenarios and Case Law
Videos and techniques for arrest for Loss Prevention Officers: do's and don'ts. Lessons learned the hard way.
Also included are Loss Prevention Training Resources and Quick Reference Guides.
It is recommended that students spend 20 hours on the course. Each module has a recommended study time. Each module quiz and the final exam require a 100% to pass. Students will be redirected to incorrect answers so that the material can be reviewed.
*Disclaimer: Security Guard Training Canada is a marketer of this course only. Certification and training is managed by our licensed and insured partner.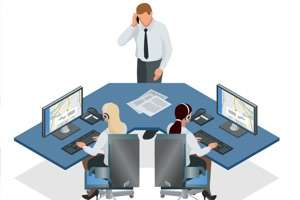 This accredited certification Security Guard Dispatcher Training course was developed by a Security Training Subject Matter Expert in consultation with industry and legal experts.
The role of Security Guard Dispatcher is critical to the functioning of a private security agency.
A Dispatcher is at the centre of the coordination of guards, mobile patrols, alarm response and much more.
As a Security Dispatcher in a control room, you are the central communications point for clients' properties and may also monitor CCTV systems, access control systems or other building systems such as elevator banks.
Large Security Agencies are always looking for motivated, detail oriented and responsible team members.
See our Security Guards Jobs page to get started after you have completed this certification training course.
This 30 hour online training course will prepare you with job specific training skills for a Security Guard Dispatcher position.
A Certificate of Completion, suitable for framing, is awarded when the online final exam is passed.
Course Topics
Course lessons focus on key areas including:
Security Dispatcher Note Taking
Security Dispatcher Communications
Emotional Intelligence
Time Management
Legal Academics
Guard Safety And The Role Of Dispatchers
CCTV Cameras And Evidence
Why take this course
Add Security Dispatcher training to your resume
Increase your desirability to employers with job-specific training that will help you stand out
Ability to complete the coursework at your own pace
24/7 availability of Subject Matter Experts for any and all questions

*Disclaimer: Security Guard Training Canada is a marketer of this course only. Certification and training is managed by our licensed and insured partner.
This Conflict Avoidance and Violence Prevention course focuses on identifying the sources of conflict and dealing with them before they escalate as well as signs of imminent violence.
This online course educates the learner to identify sources of conflict and deal with them safely before they escalate to violence.
Who Should Sign Up?
This is an online, Conflict Prevention course for frontline, customer facing employees. While conflicts occur every day in these professions, the key is not to avoid them necessarily as much it is to learn how to prevent them in the first place.
Violence in various forms often accompany conflicts. "Avoiding" conflicts can be perceived as not dealing with an issue or "sweeping it under the rug" only to fester and come up again and again.
Conflict Prevention, and ultimately Pro-active Violence Prevention focuses on the soft skills of communications, understanding emotional driven behaviour, and being a good listener while being cognizant of Officer Safety and Situational Awareness issues.
Why Take This Course?
Fulfills mandatory requirements of your Workplace Violence Prevention policy for accredited training.
Add Violence Prevention Training to your resume.
Improve job prospects with this training completed.
Complete the training at your own pace.
Printable accreditation certificate
Assistance is available from Subject Matter Experts via email.
Course Outline
Conflict Avoidance and Violence Prevention – An Introduction

Conflict Avoidance or Conflict/Violence Prevention?

Conflict Avoidance Module One

Conflict Avoidance – Effective Communications
Perceptions vs Intentions

Conflict Avoidance Module Two

Understanding Mental illness and Cognitive Impairment
Emotional Intelligence and Managing Emotionally Imbued Behaviour

Conflict Avoidance Module Three

Situational Awareness and Proactive Violence Prevention

Officer Safety Case Study

Ron Lazenby Case Study
Assignment

Conflict Avoidance and Conflict/Violence Prevention Quiz
Course Completion
Saskatchewan Online Safety Courses
Danatec's Personal Protective Equipment (PPE) Awareness course trains employees to meet legislative requirements for new staff orientation or refresher training. This course is excellent for toolbox and safety meetings, to reinforce the importance of proper selection, use, and maintenance of PPE.
Security Guards are tasked more and more with enforcing PPE compliance as well as understanding their own safety awareness.
If an organization's hazard assessment process indicates the need for personal protective equipment, an employer must ensure that:
(a) workers wear personal protective equipment that is correct for the hazard and protects workers,
(b) workers properly use and wear the personal protective equipment,
(c) the personal protective equipment is in a condition to perform the function for which it was designed,
(d) workers are trained in the correct use, care, limitations and assigned maintenance of the personal protective equipment.
Enhance your onsite practical training with our PPE Awareness course to help you meet the requirements of the legislation – as well as give you peace of mind that they have been given adequate information on the safe use, selection, and maintenance of their PPE.
Course content includes animated scenarios, expert character guideposts, interactive learning exercises, competency quiz questions, a full glossary and toolbox of regulations, codes, guides, downloadable sample documents, and also a defensible final exam.
Upon successful completion, students will be issued a training certificate valid for three (3) years.
Course Outline
Introduction to PPE
Types of PPE
PPE Procedures
This online training course was designed to improve the quality of interactions between police officers and those who have, or may have, mental health concerns. Security Guards will benefit from completing this training as they are constantly engaged with the public. By improving your communication skills you can improve safety for all participants which leads to better outcomes.
You will be emailed your certificate upon completion.
Course Outline
4 modules based on mental health scenarios.
Course completed in 1.5 hours.
You will be emailed a Certificate upon completion.
Consultations with an international advisory board including police, researchers, mental health professionals, adult educators and individuals with lived experiences have aided in the development of scenarios and e-learning topics learners will view as relevant to their daily work.
Immersive and interactive e-learning with embedded first person video.
Scenario based training with learner interaction through decision points.
Gamification experience including integration of a narrative context, feedback, and three-dimensional environments.
Immediate application of skills learned in e-learning portion during closing video.
Appropriate for all members of organization.
Evaluation component provided for all organizations.
Focus on improving behavioural skills.
*Disclaimer: Security Guard Training Canada is a marketer of this course only.
Danatec's award-winning, industry-recognized WHMIS online training course is for initial or re-certification training. This course meets all of Health Canada's training requirements under the Hazardous Products Regulations, for all persons involved in handling workplace chemicals.
Danatec's WHMIS online course (formerly known as WHMIS 2015) centers around 5 WHMIS stories, which bring in real-life events, told by real people in real workplaces. The video, animations, engaging games, and skill-building exercises will make for an engaging interactive learning experience. Our course centers on elements that ensure the information is understood, retained, and easily resourced.
A final exam to complete the course and a printable certificate along with a shareable Digital Badge are issued upon completion. Free printable resources are included such as our WHMIS sample label, poster, sample SDS, glossary, and a workplace exercise sheet for additional training.
Course Features:
Industry recognized, printable WHMIS certificate
Live support Monday-Friday, 7am to 5pm MST
Interesting and engaging learning content created by industry experts
Same day certification, begin your training in minutes
Stop and go at your convenience
Printable resources for easy reference and use
Mobile/Tablet compatible
Easily accessible – stored record of training that can be shared if needed for auditing purposes or proof of certification
Shareable Digital Badge
Have a WHMIS question? Speak to one of our safety experts free of charge, call us toll free at 1-800-465-3366
Course Outline
What is WHMIS?
WHMIS Hazards Groups
WHMIS SDS
WHMIS Symbols & Labels
Personal Protective Equipment (PPE)
What to do if something goes wrong? Emergency actions
Special situations
*Disclaimer: Security Guard Training Canada is a marketer of this course only.
Last Updated on January 31, 2022