Customer Service Skills Every Security Guard (and their Company) Need
True security professionals possess a number of essential skills that sets them apart from their competition. We thought it would be useful to outline the critical customer service skills every security company should require from their employees, and demonstrate themselves.
For any security guard who wants to be on top, here are the customer service skills you need to bring to your job, every day and every shift.
A Security Guard Must Know Their Business – All of It
The role of a security guard is one of customer service. Your everyday interactions with the public, and your clients, should always be focused on it. That means you must be thoroughly familiar with both your customer needs and all of your service offerings. Making sure you have a clear handle on all of what you provide – what you do, when you do it, etc. is the only way you can provide top-notch customer service. This includes aspects such as scheduling, shift duties, reporting, and everything else associated with your contract. You need to know what your clients expect of you, and what you need to deliver, day in and day out.
Empathy is Key to Great Customer Service for a Security Guard
The ability to actively look at things from your customer's perspective is critical to superior customer service. Once you've clearly established all roles and responsibilities, and you're intimately familiar with all of your service offerings, the next step is to put yourself in your client's shoes. Ask yourself – what do they want? What's best for the customer in any given situation? This becomes especially useful when you need to handle a stressful situation or difficult problem on your customer's behalf. By being empathic, you are showing a true understanding of a situation, and providing the best possible response and customer service along the way.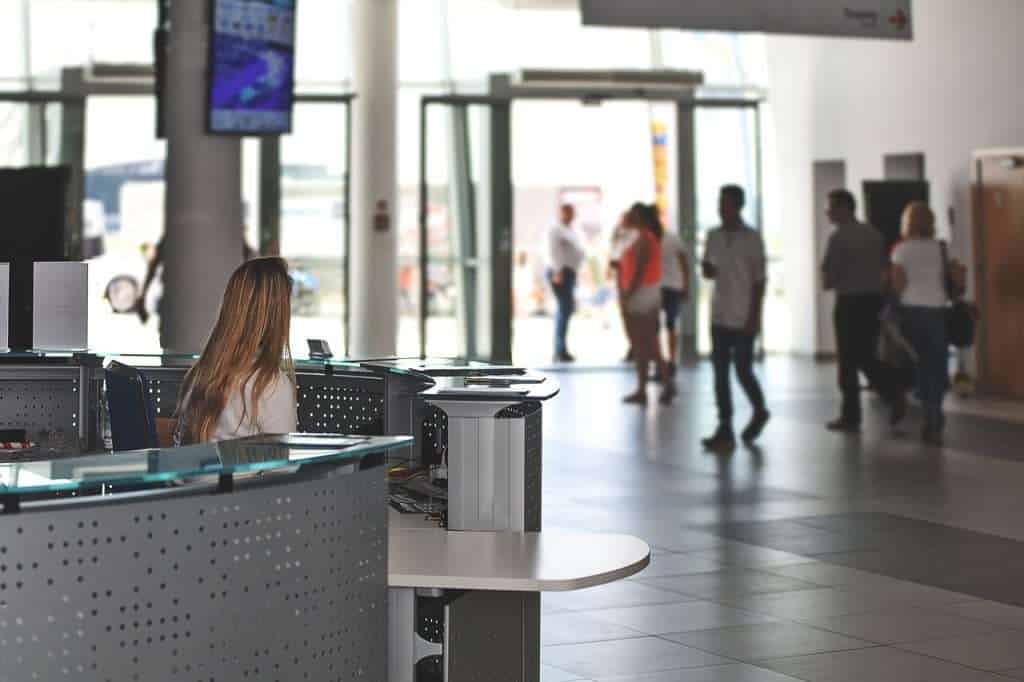 Self-Control is a Key to Superior Security Service
This basically means staying calm in stressful settings involving the public, or with the client. This doesn't mean you put up with abuse or accept duties and responsibilities outside the agreed-upon service contract. There are limits to what you can and cannot do – your actions have to follow the pre-arranged protocols you have in place with your employer and the client.
Practising self-control, and dealing properly – and calmly – with these types of situations is what will set you apart in the eyes of the customer.
Active Listening – a Crucial Skill for a Security Guard
This goes hand-in-hand with the skill of empathy. Reading your customers is essential, especially at those times when they may not be clear in their communication, or when they are emotional. Listen intently, maintain eye contact, don't interrupt, and when they are done, answer accurately, politely, and concisely. The confidence you exude, and an optimistic tone, will go a long way to solving problems and diffusing potentially difficult situations. That's excellent customer service.
Effective Communication Often Makes the Difference
Here's where your active listening skills provide a great assist. When you have to respond to a request or comment, be sure to make your communication clear. Leave no room for misinterpretation. Keep in mind that there is no out-of-the-box response – every client and situation is different; you have to customize your communication to each one as it comes along. Watch your customer loyalty skyrocket as a result of effective communication.
Patience is a Virtue in Security Guard Work
Avoid the temptation of rushing toward a response or resolution. Much of the customer service role in your business can be a test of your patience. Take the time to understand your customer's needs and follow through with an appropriate, measured response.
Be Consistent with Follow-Up
All businesses know that a lack of follow-up is a frequent complaint from customers. Being consistent with your follow-up protocols will set you apart as a security professional. This includes providing the type of information your customer needs, thoroughly and completely, and in a timely fashion. This type of customer service develops trust and enhances the relationship with your client.
Your Response Rate – Make it Quick
Solving issues and answering questions or complaints quickly is another key to superior customer service. It is a great way to boost customer satisfaction; it makes the client feel important and listened to. This applies not only to the security guard during a shift but also to your staff of knowledgeable professionals who are responsible for responding to incoming customer issues and queries.
Be Adaptable to Customer Needs
Every customer is different, and so is every situation you encounter as a security guard. It's important to alter your approach as the scenario may demand.
Adapting to new ideas and methods is an excellent way to enhance your customer service skills. This includes suggestions from your clients; they can often be the best source of improvement to what you do.
Take Responsibility for Your Customer Care
The ability to accept responsibility is what sets a security company apart. We've already mentioned the limits of what you can and can't take responsibility for. Therefore it is crucial to 1) know where the line is, and 2) do everything you can up to that point. This means setting clear expectations before the limits are tested. Clear establishment of the roles and responsibilities, and living up to them, is one of the superior customer service skills for a security guard.
Going the Extra Mile for Your Customer
The security guard business is a highly competitive one. What sets true professionals apart is their ability to go "above and beyond", whether it's by:
Responding to special requests
Taking extra time when a situation demands it
Diffusing difficult situations
Excellent response during emergency situations
etc.
The contract you establish with your client sets the ground rules. Your ability to exceed expectations is what displaying superior customer service skills is all about.
Concluding Thoughts
These are some of the most important ways you can ensure that your security customer service skills rank with the best. They represent the cornerstone of great over-the-top customer service; all security professionals should be aware of them and strive to meet them at all times.
Last Updated on Oct 17, 2023