Brampton Security Guard Training
Becoming a security guard in Brampton (like all other areas of Ontario) requires that you meet the requirements set out by the Ontario government. This post will cover the minimum requirements you need to meet. This can be accomplished by completing the Brampton security guard training.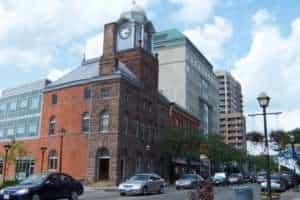 These requirements include the following:
the person possesses a clean criminal record; and

For the purposes of subsection (1), a person possesses a "clean criminal record" if,

the person has not been convicted of a prescribed offence under the Criminal Code (Canada), the Controlled Drugs and Substances Act (Canada) or any other Act of Canada; or
the person has been convicted of such an offence and a pardon under the Criminal Records Act (Canada) has been issued or granted.
There are several steps in completing Brampton Security Guard Training. The licensing process is detailed and all associated forms and requirements must be accurate and complete before submitting an application either through the mail or online through Service Ontario.
Brampton Security Guard Training Requirements
Before you apply for a license, you must:
Take the Ontario security guard basic training course.
Pass the Ontario security guard basic test.
The basic training course is at least 40 hours of classroom training, including certification in first aid and CPR.
You will cover such topics as:
| Module | Description |
| --- | --- |
| Introduction | Welcome And Login Instructions |
| Module 1 | Introduction to the Security Industry |
| Module 2 | The Private Security and Investigative Services Act, 2005 (PSISA) and the Ministry Code of Conduct |
| Module 3 | Basic Security Procedures |
| Module 4 | Report Writing |
| Module 5 | Health and Safety |
| Module 6 | Emergency Response Preparation |
| Module 7 | Canadian Legal System |
| Module 8 | Legal Authorities |
| Module 9 | Effective Communications |
| Module 10 | Sensitivity Training |
| Module 11 | Use of Force Theory |
| Module 12 | Emergency Level First Aid Certification (This is not included as it requires physical hands-on training. It is a one-day class between 6 and 8 hours long, usually costing less than $100 which can be completed with the company providing through a third party. Regardless of where you take this course, it must be from a WSIB-approved trainer. This certification is valid for three years.) |
Additional Training
Get a competitive edge in your job search by adding the following courses to your resume:
Private Investigator Training Course: offered independently or paired with the Ontario Security Guard Course. Why not take both and get a Dual License for even more job opportunities in the security field (and save some money at the same time)?
Becoming a private investigator isn't in your plans right now? (No problem but the private investigator training teaches legal and practical information that will make you a more in-demand security professional.)
Use of Force Course: this course will prepare you for how to defend yourself if necessary, and the proper time and place to use force. It will provide training on how and when to use force and the legal limitations when confronting an individual.
Pair a Use of Force Certification with your Ontario Security Guard License and get a competitive advantage by showing potential employers you take your training seriously and will treat your job duties the same way.
Ontario Smart Serve Certification: this course is approved by the Alcohol and Gaming Commission of Ontario (AGCO) of the Ontario government and is required for anyone working anywhere alcohol is sold, served, delivered, or sampled, in the province of Ontario.
The course is available in six (6) different languages: English, French, Chinese, Korean, Punjabi, and Spanish.
If you are a new immigrant to Canada you may find this article valuable.
The course and exam are available online.
Brampton Security Guard Training FAQ
How long is the Brampton security guard training?
What is the basic salary of a security guard in Canada?
The average security guard salary in Canada is $33,150 per year or $17 per hour. Entry-level positions start at $28,683 per year, while most experienced workers make up to $42,075 per year.
Can I do security work without a license in Ontario?
No. To work as a security guard or private investigator in Ontario, you must have a valid licence. Individual security guard and private investigator licences can be verified online through ServiceOntario.
How much is the Ontario security test?
Each test is CDN $35.00 plus 13% HST for a total of $39.55. The fee includes your test reservation, test administration, and test marking; it does not include the ServiceOntario licensing fee.
What are the requirements for The Brampton Security guard training?
There are no requirements to take the Brampton Security guard training BUT you must meet the following requirements to get your license:
* Be 18 years of age or older.
* Be legally able to work in Canada.
* Have a clean criminal record
* Successfully completed the mandatory training and passed the provincial exam
Is Being a security guard a good career?
Yes, it is but it is also a good step towards a future career.
You can be a security guard quickly and use the money you make to pay your way through school.
You can even use your experience as a stepping stone towards a career in law enforcement.
Being a security guard can open many doors to future careers.
Are security guards in demand in Canada?
There is a high demand for security guards all across Canada and these jobs can provide you with a well-paying career while allowing for personal time to spend with family and friends.
How do I get a security license in Brampton?
In order to receive your security guard license in Brampton, Ontario you need the following:
* Be 18 years of age or older.
* Be legally able to work in Canada.
* Have a clean criminal record
* Successfully completed the mandatory training and passed the provincial exam
Is the Ontario security test online?
Yes, and it has been available online since January 2021.
How long does it take to get a security license in Ontario?
While it can take up to 30 business days for a correctly completed mail-in application to be processed and approved and up to 8 weeks to receive your new license card in the mail, you can download a digital copy of the license shortly after being approved.
Last Updated on Sep 27, 2023