Get Hired !
Download Our Guide To Ace
Your Security Guard Interview
Security Guard Training Winnipeg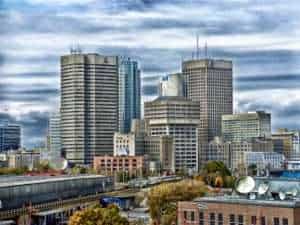 Becoming a security guard in Winnipeg (like all other regions of Canada) requires that you meet the requirements set out by the provincial government. This post will cover the minimum requirements you need to meet. These requirements can be satisfied by completing security guard training Winnipeg.
These requirements include the following:
the person possesses a clean criminal record; and
For the purposes of subsection (1), a person possesses a "clean criminal record" if,
the person has not been convicted of a prescribed offence under the Criminal Code (Canada), the Controlled Drugs and Substances Act (Canada) or any other Act of Canada; or
the person has been convicted of such an offence and a pardon under the Criminal Records Act (Canada) has been issued or granted.
is 18 years old or older,
is entitled to work in Canada, and
has successfully completed all prescribed training and testing
There are several steps in completing Security Guard Training Winnipeg. The licensing process is detailed and all of the associated forms and requirements must be accurate and complete prior to submitting an application either through mail or online thru Service Ontario.
Before you apply for a license, you must:
Pass the Manitoba security guard basic test.
Security Guard Training Winnipeg
The basic training course is a minimum of 40 hours of classroom training. You will cover such topics as:
General Duties and Responsibilities
Professionalism
You and the Law
Patrolling
Writing Notes and Reports
Bomb Threats
Access Control & Alarm Systems
Traffic Control
Fire!
Working Safely
(a complete syllabus can be found here.)
Please note that all Winnipeg Security Guard Training must be done by an accredited provider. You can find a list of training providers that are approved by the Province of Manitoba here.
Last Updated on November 17, 2021