Ontario Smart serve online course
Need your Ontario Smart Serve Certification? Security Guard Training Canada is pleased to present this required training for anyone working anywhere alcohol is served.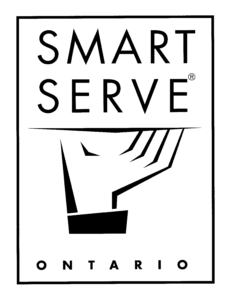 Individual training can be completed online 24/7. The training will prepare you, as a security guard, to work in any environment where alcohol is sold, served, delivered, or sampled, in the province of Ontario. Get ready to learn with short videos, quizzes, text/audio, activities, and games before completing the Final Certification Test online.
The online program is fully translated and available in six (6) different languages: English, French, Chinese, Korean, Punjabi, and Spanish.
What is Ontario Smart Serve?
The Ontario Smart Serve Responsible Alcohol Beverage Sales & Service Training Program is approved by the Alcohol and Gaming Commission of Ontario (AGCO) as the only responsible alcohol training program for Ontario.
The training program was developed in 1995 with a mandate to train and increase awareness of responsible alcohol sales and service for all Licensees and employees. As a leader, Smart Serve Ontario strives to create a safer and healthier Ontario. They proudly support ongoing research, as well as education in the tourism and hospitality industry.
overview of the Smart Serve Online Training Program
The online program consists of multiple learning modules and chapters.
You will learn through videos, audio, text, playing games, and quizzes, with immediate feedback.
A status bar will show your progress as you complete the training modules.
After fully completing all activities within the chapters/modules, your Final Test will be made available in your account.
You can launch the test when you are ready. Learn more about proctored testing.
After you complete your test, a list of questions that were incorrectly answered will be provided immediately to you.
Don't forget to download the Smart Serve TIP Sheets & Job Aids!
The training is for personal use and must be completed by the individual who is the registered owner of the Online Account.
IMPORTANT: Once you start the Final Test, you must complete it in one sitting (about 30 minutes). If you exit the test or leave the camera view, you will lose that attempt.
Training Course Details
It takes about 4 hours.
You can start and stop your training, as you learn.
You must complete the training and Final Test within 30 days.
Each purchase includes two (2) attempts at the Final Test. If the proctor flags your test session for a violation, you will lose your test attempt(s), even if you passed the test.
A valid government-issued photo identification will be required to access your Final Test. Learn more about proctored testing.
You must meet all proctoring test requirements and achieve 80% or higher to earn a certificate.
The test consists of 33 multiple-choice questions that are randomly generated.
You will receive a confirmation of completion email.
You can view your eCertificate from the "My Results" tab in your online account.
Smart Serve reserves the right to review all tests.
All fees are in Canadian Dollars (CAD) and are non-refundable.
Smart Serve Recertification
You must have a valid (not-expired) certificate in your online account to qualify for the discounted course fee ($29.95 CAD).
You will be required to purchase and fully complete the training course. Final Tests are completed online only and will be proctored. After successful completion, you will be issued a NEW eCertificate with a 5-year expiry date. (See full training guidelines).
You can access a copy of your eCertificate from the "My Results" tab in your online account. This is your proof of completion (plastic cards are no longer being mailed).
Frequently Asked Questions About The Ontario Smart Serve Certification Course
Who needs to be Smart Serve Certified?
Anyone (including security staff) working where alcohol is sold, served, delivered or handled must be Smart Serve Certified.
Do part-time Employees need to be Smart Serve Certified?
YES. Anyone involved in the selling, serving, delivering or handling of alcohol (full-time, part-time, contract employees, or volunteers) must have successfully completed their Smart Serve training, prior to their first day of work.
Can I be held liable for accepting a fake I.D.?
YES. It is your responsibility to be able to identify a fake I.D. and to ensure that everyone is of the legal drinking age.
When is it okay to ask customers if they are driving when they have been drinking?
Using the "Chat & Check" method taught in the training, we suggest casually asking your table when they order their first round of drinks if anyone will be driving later; this way you can tailor your service to that information. Whether the guest is driving or not, it is still the server's responsibility to ensure the guest is not served to the point of intoxication.
Can I accept an expired I.D. as proof of legal drinking age?
NO. The I.D. must have a valid expiry date.
Can a Certified person be fined/charged for failing to obtain proper I.D.?
YES. It is the responsibility of all staff to ensure that all patrons consuming or purchasing alcohol are of legal drinking age. 
Do Bouncers/Doormen need to be Smart Serve Certified?
YES. Even though bouncers and doormen do not serve alcohol, they do, however, fulfil the role of security and therefore must hold a valid Smart Serve Certificate.
How to renew Ontario smart serve certification?
After June 30, 2023, all Smart Serve certificates issued BEFORE July 1, 2018, will be expired.
Individuals with a current (not-expired) Smart Serve certificate can recertify online, before their certificate expires, for a reduced fee. 
Last Updated on Sep 22, 2023