Ontario Security Guard Course
Need your Ontario Security Guard License? Security Guard Training Canada is pleased to present a ministry-approved online Ontario security training course. This is a 40-hour security guard training course delivered online 24/7.
Student Comments
How Do You Get Your Ontario Security Guard Licence?
| Step 1 | Step 2 | Step 3 | Step 4 |
| --- | --- | --- | --- |
| Check to make sure you meet the basic requirements for the licence | Complete your Ontario Security Guard course | Pass your proctored government exam | Apply for your licence as a Security Guard |
Ontario Security Guard License Requirements
be over 18 years old
be eligible to work in Canada
be fluent in English
have no criminal record
have no outstanding criminal charges
not be the subject of a criminal investigation
All security guards must meet a specific English fluency standard. This is a level 5 benchmark according to the Centre for Canadian Language Benchmarks
This online security guard training course consists of eleven (11) modules. Students must complete all modules, logging a minimum total of 40 hrs and then write the online Provincial exam under the supervision of a proctor with 62% or above to receive provincial certification and apply for a Security Guard License in Ontario.
Once you have logged your required 40 hours of training you will be emailed by your Training Certificate and instructions to book your Online Exam. The online exam is paid separately to the exam provider. (Read our complete Ontario security guard exam guide)
All About The Exam
The Ontario government also provides a Security Guard Test Preparation Guide to assist in your successful completion of the exam. The test consists of 60 multiple-choice questions based on topics covered in the basic training course. You will have 75 minutes to complete the test. You must correctly answer 38 out of the 60 questions (62%) to pass.
Testing locations
Tests are offered at select DriveTest centres across Ontario or are available online.
How to register
Read our complete guide on booking your Ontario security guard exam here.
For information about locations and testing procedures, and to register for a basic test, visit www.ontariosecuritytesting.ca.
Test fee
The cost to take each basic test is $80.00.
Language
The basic test is available in English and French.
Results
Test results are available within two days of taking the test.
If you pass the basic test (you must correctly answer 38 out of the 60 questions (62%) to pass), you can apply for a security guard licence.
If you fail the basic test, you can take it again as many times as necessary, however, you must pay the full fee each time.
After You Have Completed Your Course And Passed The Exam…
You can then apply for your security license. The security guard's licensing fee is $80. Your licence is valid for 2 years. This is paid directly to the government with your application.
The renewal process is the same as the initial application process.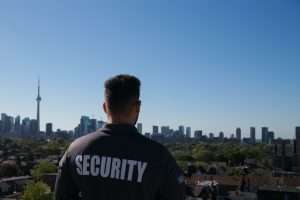 Ontario Online Security Guard Course Syllabus
The Ontario security guard course training syllabus (either online or in a classroom) is set by the Ontario Ministry of The Solicitor General. It is a 40 Hour Mandatory Security Guard Course and prepares you to write (and successfully pass) the security guard exam required by the Province of Ontario.
| Module | Description |
| --- | --- |
| Introduction | Welcome And Login Instructions |
| Module 1 | Introduction to the Security Industry |
| Module 2 | The Private Security and Investigative Services Act, 2005 (PSISA) and the Ministry Code of Conduct |
| Module 3 | Basic Security Procedures |
| Module 4 | Report Writing |
| Module 5 | Health and Safety |
| Module 6 | Emergency Response Preparation |
| Module 7 | Canadian Legal System |
| Module 8 | Legal Authorities |
| Module 9 | Effective Communications |
| Module 10 | Sensitivity Training |
| Module 11 | Use of Force Theory |
| Module 12 | Emergency Level First Aid Certification (This is not included as it requires physical hands-on training. It is a one-day class between 6 and 8 hours long, usually costing less than $100 which can be completed with the company providing the security training or through a third party. Regardless of where you take this course, it must be from a WSIB-approved trainer. This certification is valid for three years.) |
| Next Steps | Exam Registration And Next Steps |
Additional Training
Get a competitive edge in your job search by adding the following courses to your resume:
Private Investigator Training Course: offered independently or paired with the Ontario Security Guard Course. Why not take both and get a Dual License for even more job opportunities in the security field (and save some money at the same time)?
Becoming a private investigator isn't in your plans right now? (No problem but the private investigator training teaches legal and practical information that will make you a more in-demand security professional.)
Read our comprehensive guide on How To Become A Private Investigator In Ontario for more information.
Use of Force Course: this course will prepare you for how to defend yourself if necessary, and the proper time and place to use force. It will provide training on how and when to use force and the legal limitations when confronting an individual.
Pair a Use of Force Certification with your Ontario Security Guard License and get a competitive advantage by showing potential employers you take your training seriously and will treat your job duties the same way.
Ontario Smart Serve Certification: this course is approved by the Alcohol and Gaming Commission of Ontario (AGCO) of the Ontario government and is required for anyone working anywhere alcohol is sold, served, delivered, or sampled, in the province of Ontario.
The course is available in six (6) different languages: English, French, Chinese, Korean, Punjabi, and Spanish.
The course and exam are available online.
Frequently Asked Questions About The Ontario Security Guard Course and Licensing
How do I get my security guard license in Ontario?
In order to obtain an Ontario Security Guard license you need to follow these steps:
1 – Meet the requirements including being at least 18 years old, legally able to work in Canada, and having no criminal record or been granted a pardon.
2 – Complete the mandatory 40-hour training course
3 – Pass your provincial exam
4 – Apply for your license
How long is the Ontario security guard course?
The Ontario Security Guard Course is 40 hours long including the First-aid/CPR training.
How much is a security guard course in Ontario?
Depending on where you do the course and whether it is online or in-person the cost can range from $99 upwards. You will also need a first aid/CPR course. The cost of the security guard exam is $75 and the government licensing fee is $80.
What are the four requirements to be a security guard in Ontario?
The four requirements for a security guard license in Ontario are as follows:
1 – Must be at least 18 years of age (or older)
2 – Must be legally entitled/qualified to work in Canada
3 – Have no criminal record
4 – Must complete the mandatory training for security guards
Can you take the Ontario security guard test Online?
Yes, you can arrange for your exam to be held online. Additionally, you can take the exam at select DriveTest centres across Ontario.
Can I do security work without a license in Ontario?
No.
In order to work as a security guard or private investigator in Ontario, you must have a valid licence. 
What is the passing grade for the Ontario security test?
62%.
The minimum passing grade for the Ontario security guard exam is 62%
Do bouncers need a license in Ontario?
Yes.
The provincial regulations state that ANYONE employed in the security field must be licensed by the province. This includes security guards, bodyguards, bouncers and loss prevention personnel.
Do security guards have to show ID?
Yes.
All security guards and private investigators must follow all requirements including: 
– identify themselves as such.
– carry their applicable licence when they are on duty.
– show their licence to anyone who asks to see it, including employers, police and members of the public.
Can security guards carry guns in Ontario?
Security guards and private investigators in Ontario may carry a firearm as a part of their duties if it is issued by their employer and have a valid firearms licence.
What is the basic salary of a security guard in Canada?
Basic salary varies across the country but a recent study showed that the average security guard salary in Canada is $33,150 per year or $17 per hour.
Entry-level positions start at $28,583 per year, while most experienced workers make up to $42,519 per year.
What kind of jobs can you get with a security licence?
How Do I Renew My Ontario Security Guard License
You can renew your licence either via the mail or online whichever is easier for you.
You will need the following information to renew your licence:
– Your Ontario Testing Completion (TCN) or Licence Number
– The expiry date of your current licence
– Copies of 2 pieces of valid (non-expired) identification
– Complete a declaration of convictions and outstanding charges
– Consent to release of information to allow for confirmation of provided information
Read our guide to renewing your Ontario security guard license.
Last Updated on Sep 22, 2023