Introduction:
The demand for security guards in BC is expected to grow, according to Work BC. Now is the time to secure your place in this growing industry. We've created this comprehensive guide about BC security guard training to help simplify the process for you.
The Ministry of Justice defines security guard as one who, "provides or supervises a guard patrol or watch of property; and/or provides door security at an establishment licensed under the Liquor Control and Licensing Act. Security Guards can also respond and monitor alarms installed on the property of another person."
The definition encompasses in-house security guards employed by a business that does not hold a security license, including hospitals, retail stores and universities, loss prevention workers, bodyguards and doorpersons.
There are several steps in the BC security guard training and licensing process and the associated forms and requirements must be accurate and complete prior to submitting an application either through mail or online. All forms discussed are available on the Ministry of Justice site.
Security Guard BC Pre-Licensing Requirements
Fingerprints
New applicants must undergo security guard fingerprinting at a local police department, RCMP detachment or an approved fingerprinting agency. When fulfilling this requirement for your BC security worker license, use the form titled Request for Fingerprinting Under the Security Service Act (#SPD0507). Complete page one of the form and take both pages to the fingerprinting agency. The "Confirmation of Fingerprinting" section will be completed and given to you. Mail this along with your application. The top half of the form must be sent directly to the Registrar with your fingerprints from the agency.
Criminal Record Check
When applying for a BC security worker license, you must also provide the Registrar with an authorization to conduct a criminal record check; a police information check and a correctional service information check when you submit an application form. The Registrar's office will run record checks upon first applying and at anytime while your license is current.
Mental Health Condition Report From Your Physician
If you have ever been treated or are currently being treated for a mental health condition, your doctor must complete and sign the Mental Health Condition Form (#SPD0511). Your doctor will need to provide certain information. You must then submit the form with your application for your BC security worker license.
Police Officer/Peace Officer Status
To become a security worker in BC you cannot be a member of a police force. However, you may be considered if you are a volunteer auxiliary or reserve constable, a sheriff, a corrections officer, a court-appointed bailiff, or a special provincial constable or special municipal constable. If you fall into one of the categories, a letter from your superior disclosing what access you have to any justice, court or police information systems and a statement that you are aware you cannot use information from these systems in your work as a security guard must be submitted with the application.
English Fluency
Security guard licenses are contingent upon the fact you are sufficiently fluent in the English language to speak with the public and carry out your duties. If English fluency is brought into question, the Registrar can ask an applicant to submit a copy of the results of an English language proficiency assessment.
Citizenship/Canadian Residency
One of the BC security guard requirements is that you are ordinarily a resident in Canada as shown by your citizenship, residence status and other factors. Documentation must be submitted. Those born in Canada or who have obtained Canadian citizenship must submit a copy of their birth certificate, current Canadian passport or Canadian Citizenship Card.
If not born in Canada, you must submit a copy of one of the following documents:
Record of Landing Document (IMM1000)
Confirmation of Permanent Resident Document (IMM5292)
Canadian Permanent Resident Card
Citizenship Certificate Card
Current work or study permit
Working visa with your valid passport
Photo Identification
When submitting your BC security guard license application, attach a copy of one of the current, valid forms of photo identification (cannot be expired):
Driver's License
Passport
BCID
Canadian Permanent Resident Card
Canadian Native Status Card (if it has a photo)
Canadian Firearms License
BC Services Card (if it has a photo)
Age
To become a security worker in BC, you must be at least 19 years of age.
Photo Specifications
Submit a photo of yourself to be placed on your license. It is required the photo be:
Taken within the last 12 months
Facing front, eyes open and looking at camera
If wearing prescription eyeglasses, they cannot be tinted and there can be no shadows, glares or rims obscuring your eyes
65% – 75% of the photo should be covered with your face
Clear, focused and not too dark or too light
Can be in black and white or color
Use of Dogs
If your security job will require the use of dogs, you have to request authorization to use dogs from the Registrar, Security Services Act. You must submit a validation certificate to the Registrar from the Justice Institute of British Columbia that proves both you and the dog are properly trained. You must re-qualify each year or every six months if it is a dual-purpose dog.
Use of Restraints
To use handcuffs you have to request authorization from the Registrar, Security Services. Applicants must complete the Advanced Security Training (AST) course offered by the Justice Institute of BC or have equivalent training. This must be taken within one year of applying and you must re-qualify every three years.
Proof of Education, Training and Experience
You must submit documentation that you have successfully completed the mandatory BC security guard training (Basic Security Training must be completed through an approved training school), meet the education and experience requirements necessary to receive a license. If your training was conducted outside of the province, or you have done security guard work outside of the province, there is a process to challenge an exam or to demonstrate skills. The Justice Institute of BC can review previous training and experience. New applicants can seek a license after completing the Basic Security Training. Note: If your training was under the past program, BST Level 1 and 2 certificates are accepted as proof of training.
BC Security Guard Training Course
Security Professionals working in the province of British Columbia are required to complete mandatory training prior to being eligible for provincial licensing. You must be 19 years of age before you can apply for your Basic Security Training License.
Mandatory BST training is 40 hours in length, and focuses on the following content:
Professionalism & Ethics
Legal Studies
Report Writing
Personal Safety
Approved Security Training Schools are required to follow the training standards for the security industry as outlined in the Security Services Act. Approved Security Training Schools are listed further down this page.
Basic Security Guard Training Course Outline
Introduction to the Course
Express expectations of the course.
State the course goal.
List the course objectives.
Introduction to Private Security
Define "professional" and explain the standards of professional conduct for security professionals (SPs).
Define "ethics" and explain its importance in the security profession.
Give examples of ethical and unethical behaviour on the part of SPs.
Define "customer service" and explain its importance in the security profession.
Describe the difference between private security and the police.
List the types of jobs that SPs could do.
List the basic duties of SPs.
List the types of incidents to which SPs might have to respond.
Explain the basic steps in responding to incidents.
Explain the guidelines for incident scene protection.
Describe the role of emergency services and regulatory agencies.
Explain the authority of emergency services and regulatory agency personnel on private property.
Legal Issues
Define "law" and state the function of law.
List the federal and provincial laws that provide a legal framework for SP duties and powers.
Explain the purpose of the Canadian Charter of Rights and Freedoms.
Explain the SP's responsibilities and limitations under the Charter.
Explain the impact of human rights legislation on the SP's performance of his or her duties.
Define key terms used in reference to criminal offences.
Identify the essential elements of common offences.
Explain the provisions of the Security Services Act and Security Services
Regulation that have a direct impact on SPs.
Identify other legislation that have a direct impact on SPs.
Describe the SP's powers and limitations under the law.
Documentation
Explain the benefits of an SP's notebook.
Explain the guidelines for effective note-taking.
State the rules for maintaining a notebook.
List the parties who may access an SP's notebook.
Explain how an SP's notebook may be used in court.
Write effective notes about an incident.
Explain the purpose of a report.
List the instances when a report must be written.
Describe the characteristics of an effective report.
Describe the report-writing process.
Write an effective report.
Personal Safety
Define "safety."
Describe the elements of a safe interview stance.
Describe the various relative positions that could be used in an encounter.
Explain the importance of continuous assessment.
Define "tactical communication."
State the goal and benefits of tactical communication.
Explain how tactical communication fits in the National Use of Force Model.
Apply three major tactical communication strategies.
Describe the desired outcome of tactical communication.
List personal safety strategies.
On completion of the online training, students must pass a final written exam with a score of 60%. This is not available online and must be written in person. Regularly scheduled exams are held in the Lower Mainland at the JIBC New Westminster Campus. Out of town students will have an exam set up in a location near them but may have to wait up to three weeks. Your online administrator will contact you by email or phone to confirm exam details.
Approved Security Training Schools
Security Training Programs administers mandatory security training in British Columbia on behalf of the Ministry of Justice and the Security Services Act.
Abbotsford
Canadian Community College 604.557.9944
Central Valley Academy 604.859.8860
First Group Institute 604.870.4776
Burnaby
Concord Security Corporation 604.689.4005
International Career Training Institute of Canada, Inc. 604.861.8919
PSG Safety and Security Institute of BC 604.677.8700
Specialized Defense Tactics Academy 604.328.0777
Campbell River
Discovery Community College 250.287.9850
Domcor Health, Safety & Security Ltd 250.286.3163
Chilliwack
Moffat Security Training Academy 604.703.0888
Sting Executive Group International (SEGI) 1.888.713.2673
Coquitlam
Douglas College 604.777.6148
Courtenay
Excel Career College 250.334.2452
Dawson Creek
Northern Lights College 250.782.5251
Kelowna
Focus Training Institute Ltd. 250.861.5808
Frank McConnell School of Karate 250.707.3034
Lexxon.ca Training (BC Corps Commissionaires BC) 250.979.4773 Toll Free 877.322.6777
Securiguard Advanced Training 250.763.7339
WT Security & Safety Services of British Columbia 250.861.4357
Kitimaat
Kitamaat Valley Education Society 250.639.9199
Nanaimo
Footprints Security Training Institute 250.753.6944
Moffat Security Training Academy 250.240.1948
Securiguard 250.756.4452
Vancouver Island University 250.740.6364
New Westminster
Justice & Public Safety Division, Justice Institute of BC 604.528.5590 [ BST Online ]
Sting Executive Group International (SEGI) 1.888.713.2673
Parksville
Moffat Security Training Academy 250.240.1948
Prince George
International Protection Sciences 250.562.1215
Northern BC Guard Academy 250.552.3311
Prince Rupert
Hecate Strait Employment Development Society 250.624.9498
Surrey
A-1 Security Training Academy 604.502.8502
Advanced Learning Centre Ltd. 604.543.7300
BSL Security and Training Institute 604.507.8915
BCTI Brar Career Training Institute Inc 604.502.7520
Canuck School of Education Ltd. 604.598.2424
CDI College of Business, Technology and Health Care 604.585.8585
Discovery Community College 604.930.9908
Lead Institute of Learning 604.594.7600
Lexxon.ca Training (Commissionaires BC) 604.495.8201 E 5001 – Toll Free 877.322.6777
School of Indigenous Peacemaking and Security 604.594.0438
Trail
Domcor Health, Safety & Security Ltd 250.286.3163
Vancouver
24 Hour Security Ltd. 604.696.0988
Genesis Security Inc. 604.669.0822
Langara College 604.323.5482
London Security Training Institute Ltd. 604.697.0008
Mahadev Security Training Institute 604.568.5250
Securiguard Advanced Training 604.685.6011
Victoria
Camosun College 250.370.4221
Securiguard Advanced Training 250.388.3118
Themis Security Services 250.884.4415
Note:
As of April 12, 2016 the current security industry licenses and permits will be upgraded with new security enhanced licenses and permits that meet the current government quality standards. All current licenses and permits in the previous style will continue to be valid until their expiration date. The example below shows a comparison of the licenses issued prior to April 12, 2016 and the new security worker licenses.
Previous Security Worker License:
Front of Card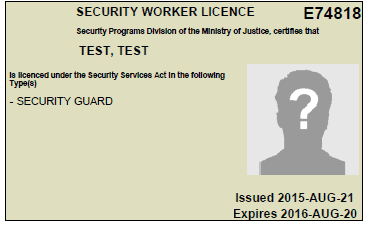 Back of Card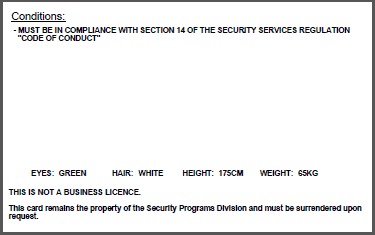 New Security Worker Licence:
Front of Card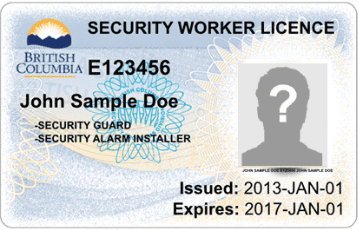 Back of Card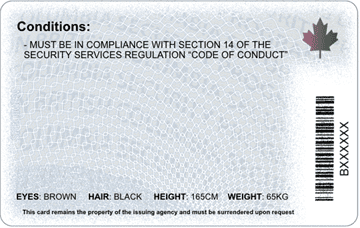 Once you have completed all of the forms associated with the requirements above and have paid the associated fees, you may submit your application for a security guard license. Be sure to double-check everything or the process can be delayed.