Get Hired !
Download Our Guide To Ace
Your Security Guard Interview
Select Your Province To See Available Online Courses
Alberta – British Columbia – Manitoba – Ontario – Saskatchewan
Canada Wide Courses
Retail Loss Prevention Training – Use of Force Training – Conflict Avoidance and Violence Prevention
Online Security Guard Courses
Why Choose Online Security Guard Training?
As with all online education, there are many advantages including: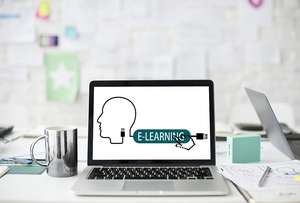 Flexible 24/7 training – learn at your own pace
Easy-to-follow materials
Read or listen at your convenience
Value priced, no extra fees.
Works on PC, MAC, tablets & smartphones!
No commuting to class
There are, however, some disadvantages to using online security guard courses that you should not overlook.
No classmates to ask questions of or further your understanding of a topic.
No set schedule for the class. This can be a problem if you are easily distracted.
No ability to network with other persons interested in being involved in the professional security field.
For the majority of people, online security guard courses are the answer to becoming a properly trained security professional.
Online Security Guard Courses Steps
Your online training provider will provide lessons and materials necessary to complete the below-mentioned syllabus. (Each provincial syllabus will be slightly different to allow for the differences in provincial laws). The modules will usually be a mixture of video lectures, class notes, and PowerPoint slides and quizzes, and assignments to ensure that you have a solid understanding of the material before you move on to the next module.
You should complete each module in order and receive your graded quizzes and assignments (returned by your instructor) before you mark that section completed and begin the next module.
You will have access to an instructor to answer any questions that you should have and the instructor will provide you with graded copies of your assignments and quizzes.
Once you have completed the course your online training provider will give you detailed instructions on how to inform the necessary government agency and arrange for your exam.
Frequently Asked Questions About Online Training
What is online training?
Online training is a learning method that allows students to study their course material at their own pace without the need to attend a classroom.
Is Online Training As Effective as In-Class Training
Yes, in fact, it may be more effective. IBM has found that participants learn five times more material in online learning courses using multimedia content than in traditional face-to-face courses.
Who Administers the Test
The exam is administered by the provincial ministry responsible for licensing security guards.
Last Updated on January 15, 2022